Back to previous page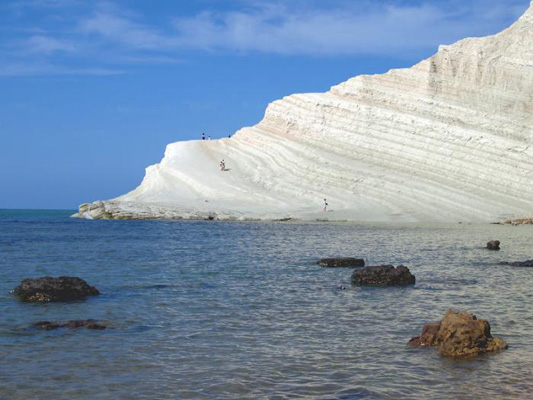 The Stair of the Turks is located in Realmonte in the province of Agrigento is just 16 km from the B&B Miravalle Agrigento.
The Stair of the Turks is a rocky cliff on the coast of Realmonte, near Porto Empedocle, southern Sicily, Italy. It has become a tourist attraction due to its unusual white color, as well as by its mention in Andrea Camilleri's series of detective stories about Commissario Montalbano.
The Scala is formed by marl, a sedimentary rock with a characteristic white color. It lies between two sandy beaches, and is accessed through a limestone rock formation in the shape of a staircase, hence the name. The latter part of the name derives from the frequent raids carried on by Moors.
In August 2007, the municipality of Realmonte applied for the inclusion of the Scala dei Turchi (together with the nearby Roman Villa Aurea) in the UNESCO Heritage List.
Source: Wikipedia
Back to previous page