The Convent of Santo Spirito Agrigento
Back to previous page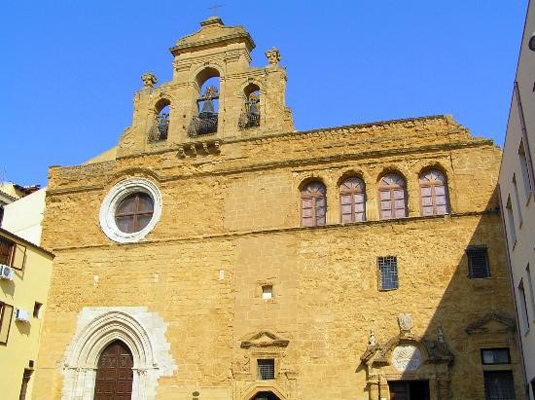 The Convent of Santo Spirito (Monastero di Santo Spirito) is only 450 meters walk from the Bed and Breakfast Miravalle Agrigento.
The Convent of Santo Spirito (Monastero di Santo Spirito) in old town Agrigento
Outstanding example of Chiaramonte art, created by will of the noblewoman Marchisia Prefoglio, probably around 1299. Locals call it "Bataranni" (Great Abbey).
The entrance to the monastery leads into a large cloister in the shape of an inverted "L". Opposite the entrance, on the west façade, is the Chapterhouse: its magnificent doorway is elegantly flanked by two beautiful mullioned windows characterized by three kinds of little columns, joined together by a number of decorations. The ceiling of the Chapterhouse is superbly dominated by a series of ogival arches. On the north side is the Chapel of the Monastery, erected by Constance II Chiramonte around 1350.
To the far right is the entrance to the refectory (dining hall) with a rectangular plan. Its flat ceiling serves as floor for the dormitory. The doorway, located at the centre of the main façade and decorated with archivolts resting on little columns, is supported by five ogival arches. The building houses the Museo Civico.
Church of Santo Spirito
Associated with the name of Marchisia Prefoglio who wanted its construction in 1299. The beautiful facade is made ​​up of a great Gothic portal, with pointed arches, surmounted by a rose window dating from the time of the foundation. The upper floor of the complex with three bell towers speaks the language of late seventeenth century architecture.
Beyond this facade you will discover the beautiful nave built as a "hall of preaching" without apse, according to the baroque canon, vivaciously decorated with fantasy. The nave is interrupted by the Triumphal Arch, with a stucco decoration depicting the Glory of the Holy Trinity. Above the entrance there is the choir, supported by four columns. The side walls of the nave, pleasantly decorated with stuccowork by the famous master sculptor Serpotta, show scenes from the childhood of Jesus Christ. On the left: the Nativity, the Adoration; on the right: the Flight into Egypt and the Presentation in the Temple. The scenes are crowned by graceful cherubs in the most bizarre attitudes, in relation to the scenes shown below. On the left wall, in a niche, just after the entrance, we admire the marble statue of the Madonna of the Spring and Child by Gagini. In the big chapel a represantation of the Glory with God the Father and the Holy Spirit, and below St. Bernard and St. Benedict.
Source: Valley of the temples.
Back to previous page